Key data for SACD
Over €222 million collected in 2015 (+2.4%).
€89.71 out of €100 collected are meant to be distributed to to right holders.
Authors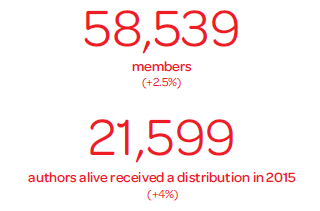 Collection

Performing arts
€70 M (+4%). this rise is due to an increase in collected sums in paris (+8% in particular thanks to very successful venues and substantial remittances from the opéra de paris) and a rise by 3.6% in the provinces, which confirms over the course of a full year the effectiveness of insourcing and centralising at headquarters the collections of royalties from the provinces.
Audiovisual sector
€152 M (+2%), which represents a particularly sharp growth in France (+€3.4 M) thanks to the increase in private copy, and to collections from distribution networks and new media (VoD, Web) making up for reduced collections abroad.
Distribution to authors

The record level of distribution in 2015 (higher than the collected amount) is due to the increase in the collected amounts, but also to the major efforts made this year by SACD to speed up processing and to reduce the amount of outstanding rights (doubling over 3 years – between 2012 and 2015 – the number of works acknowledged and remunerated).


Social Action
Supplementary allowance to retired members: €3.4 M
Direct Mutual Aid actions: €0.34 M (67 grants awarded –of which 26 to related organisations)
Mutual Aid from the paul Milliet Foundation: €0.07 M (18 grants awarded)
Social support: 232 people helped
Cultural outreach
Overall Budget: €4.89 M
Statutory allocations (private copying, French Intellectual property Code): €3.92 M
Voluntary allocations: €0.97 M